By tolanic @ 7:17 pm
Foods & Beverages : Japan
Takeshita Street (Takeshita Dori : 竹下通り) is one of the most famous pedestrian malls in Tokyo. It is a 350 meters long pedestrian-only street lined with storefronts. Automobiles are not allowed to enter this street. Takeshita Street is located in Harajuku (原宿) in Tokyo, Japan. This place is quite popular among young teenagers to show […]
Takeshita Street (Takeshita Dori : 竹下通り) is one of the most famous pedestrian malls in Tokyo. It is a 350 meters long pedestrian-only street lined with storefronts. Automobiles are not allowed to enter this street. Takeshita Street is located in Harajuku (原宿) in Tokyo, Japan. This place is quite popular among young teenagers to show off their latest fashion. This street will become very crowded during weekends and holidays.
Besides fashion, this place is also quite popular with their street food called Coned-shaped Japanese Crêpes. It is a type of very thin pancake wrapped together with whipped cream and other fillings such as creme caramel, brownie, cheesecake and strawberries. The taste is quite unique and delicious. It is easy to eat while you walk. The price is around JPY ¥500 (USD $4.80 or RM16.00) for each Crêpe. There are several takeaway food stalls selling Crêpes along this street. You should not miss to try this dessert.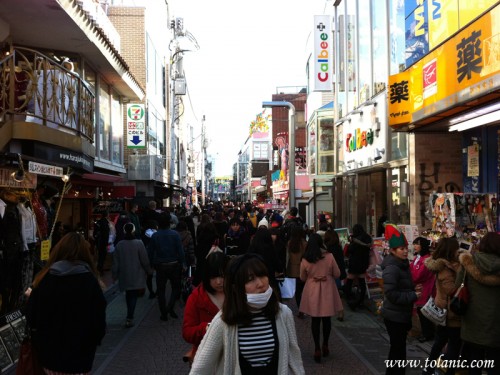 Takeshita Street (Takeshita Dori) in Harajuku in Tokyo, Japan.