By tolanic @ 7:00 pm
Saudi Arabia
Few days before we leave Medina, we also grab the chance to visit other places of interest apart from al-Masjid al-Nabawi in Medina such as Uhud and al-Qiblatain mosque. Uhud was located about 5km from Medina. The battle between the Muslims and the Meccans (Quraysh) was happened here at the valley that located in front […]
Few days before we leave Medina, we also grab the chance to visit other places of interest apart from al-Masjid al-Nabawi in Medina such as Uhud and al-Qiblatain mosque.
Uhud was located about 5km from Medina. The battle between the Muslims and the Meccans (Quraysh) was happened here at the valley that located in front of the mount Uhud on year 625. The Muslim army was lead by Prophet Muhammad, Saidina Hamza ibn Talib and Saidina Ali. There are about 70 Muslims died in this battle. The enemies are outnumbered about three times more than the Muslim army. The victory goes to Quraysh.
After that, we went to Masjid al-Qiblatain (Mosque of the two Qiblas). The historical event was held at this mosque where in the past the Muslims have been commanded to change the Qibla (the direction of prayer) about 180 degrees turn from Jerusalem to Makkah (Mecca).
Few days later, we left Medina and move forward to Makkah. I love al-Masjid al-Nabawi. I cannot wait to visit that place again in the future.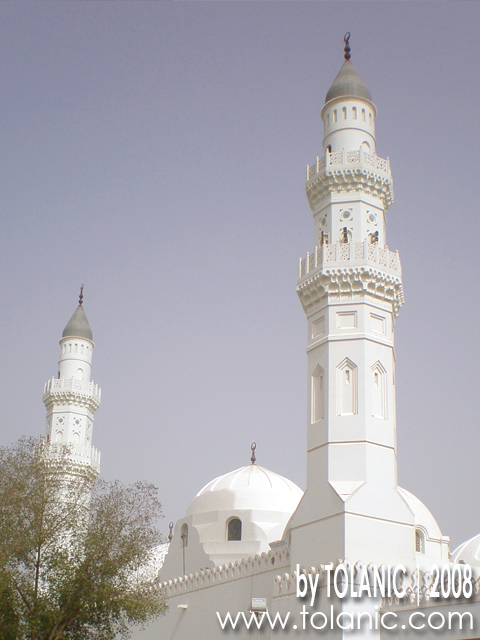 Al-Qiblatain mosque (Mosque two Qiblas) seen from outside. Architectural design which greatly good!